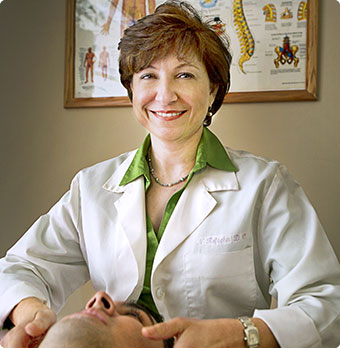 Dr. Nazee Rofagha, DC operates the Family Chiropractic Wellness Center in Pasadena where she offers complete wellness for people of all ages from children to adults to the elderly. Among her many distinctions, Dr. Rofagha is unique in that she strives to find the root of the problem instead of just treating the symptoms and welcomes those unusual and challenging cases.

Improving the health and well-being of her patients for more than 18 years, Dr. Rofagha remains at the forefront of her field.  A national board-certified chiropractor licensed by the State of California Board of Chiropractic Examiners, Dr. Rofagha incorporates a "no boundaries" mindset in her work and is one of the few doctors in the area that is trained to perform Neurological Rehabilitation. Dr. Rofagha is certified in Quantum Neurology®, an emerging new collection of non-invasive techniques designed to evaluate and rehabilitate nerves in the body.

Dr. Rofagha is also among a select group of chiropractors nationwide who is trained and certified to practice a breakthrough new technique in neurological restoration. This technique is called NRCT™ (Neurological Relief Centers Technique). It is a non-invasive technique with remarkable results. To learn more visit www.stopfibro.net.

Dr. Rofagha received her Doctorate in Chiropractic from Cleveland Chiropractic College of Los Angeles and her Bachelor of Arts degree in Biology from California State University at Northridge.  She is also a Certified Ergonomics Assessment Specialist (CEAS) and consults to various businesses on proper ergonomics. Dr. Rofagha also works with patients involved in motor vehicle accidents and work-related injuries.

Dr. Rofagha's office is located at the Pasadena Rehabilitation Institute building where she works closely with the doctors at (PRI) for further improving patients' health. Dr. Rofagha is dedicated to helping others integrate their mind, body, and spirit. She is an active Tournament of Roses volunteer member since 2007, holds health talks at Pasadena libraries, senior centers, and schools.

Please contact 626-583-9116 to make an appointment with Dr. Rofagha. She looks forward to seeing you!